It is 4:17 on a Thursday afternoon and Dionte Christmas and I are standing underneath the northernmost basket on the main court of Temple's McGonigle Hall, talking hoops. He's just come from the final class of his senior year, and he's decked out in a blue and white button-down and dark navy slacks. The outfit covers up his newly-filled-in 6-foot-5 frame and, if it weren't for a pair of dark basketball sneakers poking out from under his business-casual clothes, you might forget the fact that, in one week, Christmas will officially be a professional athlete.
After discussing the 76ers' signing Eddie Jordan as a coach, the problems Jeff Van Gundy has coaching rookies, and why Avery Johnson is out of a job, I bring up the news of the day: The Sixers have just traded lunch-pail power forward Reggie Evans to Toronto for Jason Kapono, a bit player who doubles as the most statistically accurate shooter in NBA history. Christmas hadn't heard. "They did what?" he asks, hoping the news would be different the second time around. It wasn't. The 76ers added Kapono and, in doing so, effectively ended their hunt for a three-point marksman. A week earlier, Christmas had been pining for the job.
"They need a shooter … I am a shooter. I think I'd really fit in here," he said of the Sixers. Now he's less enthusiastic. "Well," he says glumly, glancing up at the ceiling and untucking the Oxford from his pants, "I guess they're looking for a point guard."
Next Thursday is the NBA draft, and Dionte Christmas is on the bubble. Most mock drafts have the high-scoring guard going toward the beginning of the second round. For the past month, Christmas, 22, has been flying around the country to tryouts, exhibiting his skills and trying to improve on that. He was hoping his hometown team might take a flier on him. Now, probably, they won't. Christmas is not a point guard. Christmas, like Kapono, is a shooter.
Five minutes after our conversation, now outfitted head-to-toe in workout gear, he begins to show it. He rises up from beyond the three-point line and easily drains a jumper, then steps back and hits another, then another, then another, just like he did 107 times last season and 319 over his college career — both Temple University records. On the court and in front of the cameras, he doesn't look like the guy who's worried about an NBA journeyman stealing his dream; he looks like the first guy to ever lead the Atlantic 10 in scoring three years in a row (no one else has done it even twice). Tomorrow, he'll go to a tryout in New York. He's hoping the Knicks still need a shooter.
If Dionte Christmas doesn't make an NBA team, it won't be the first time he hasn't made the cut. When he was 13, he couldn't even make the Oak Lane Wildcats.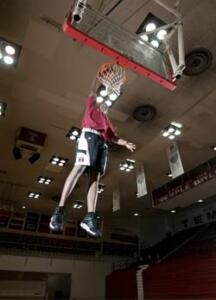 Christmas grew up in West Oak Lane. His father, James, who works for PGW, and his mother, Jackie, who works for Cooper Medical Center, kept their son off the streets by having him play sports year-round — football, then baseball, then basketball. When he turned 13 he decided to focus on one. His choice of basketball was a surprise. "We had thought he would have picked one of his better sports," James admits. Basketball was Dionte's worst of the three.
For most NBA hopefuls, the pre-draft camps and workouts mark the first time they ever have to seriously try out for a team. Not Dionte. He had to audition for his 13-and-up neighborhood team. He didn't make it.
His father, who coached the under-12 team, persuaded the 13-and-up coach to let Dionte practice with his peers. "Can you imagine making a 13-year-old kid practice with a team who had just told him he wasn't good enough?" he reflects.
For most kids that age, being told they weren't as good as their friends would have been enough to put an early end to their career. For Dionte it was motivation. He gave up video games and started coming to practice early every day, to get in more jump shots. The next year he made the team.
By the time he was 15, he had improved enough to meetJohn Hardnett, the Philly basketball guru. Hardnett, Sonny Hill's heir apparent, mentors nearly every good-to-great player growing up in Philadelphia. His workouts are the stuff of city legend, frequented by pros from across the country, and always provide a chance for local preps to show and prove. Christmas was just barely good enough to get into the gym. "At that particular time he was not a very good basketball player," Hardnett remembers. "He wasn't a guy you imagined to be where he is now." He was, Coach Hardnett says, "an average basketball player."
Partly this was because Christmas wasn't an exceptional natural athlete. But what he lacked in athleticism he made up for in time on the court. Inspired by seeing pros like Aaron McKie, Cat Mobley and Alvin Williams up close, Dionte became a gym rat. "I threw my older guys at him and suddenly he was always the first one in gym," Hardnett remembers. "Once he met those guys, I never had to say anything to him," his father agrees.
On Fridays, Hardnett used to run workouts at Mallery playground in Mount Airy until almost 11 at night, and then hold practices the next morning at 9. For most players, the regime was almost impossible. "Dionte was always there at 8:30," Hardnett remembers, "shooting."
"Nobody knew how good he was getting," his father recalls proudly.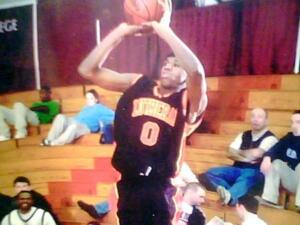 His junior year at Samuel Fels High, the city began to find out: Christmas put up more than 17 points a game. But Fels was far from a powerhouse, and Christmas was largely being ignored by Division I colleges. Instead of transferring to a higher-profile school, though, Christmas opted to stay put. "If he had gone to a bigger basketball school, they would have put him at the forward position," Hardnett explains. "[At Fels] he was basically the only one on the team. It made him learn how to play. His senior year was ridiculous." He led the entire city in scoring with 26.5 points per game. Temple took notice. "We had known him through the Sonny Hill Leagues, but about halfway through his senior year we really started to become interested," explains Dan Leibovitz, who recruited Christmas when he was then-coach John Chaney's lead assistant and now serves as the University of Hartford's head coach. "You can't teach someone how to score like that."
After a year at Philadelphia Lutheran Christian Academy — Dionte, by his own admission, "wasn't mentally or physically ready" for college after his natural senior year — Christmas became an Owl. In just his second collegiate game, a 54-47 loss to UCLA at the famed Pauley Pavilion, he showed he belonged. He hit three three-pointers, and was Temple's second leading scorer. He thought it was a sign of things to come. But all of those numbers ended up being his season highs.
"It was, for him, a disappointing year," says Leibovitz, and Dionte admits he got frustrated with his playing time. Again, though, put in a position where many would quit — he went from Philadelphia's leading scorer to playing just 11 minutes a game for a team that missed the NCAA tournament — Dionte stayed focused. After his freshman year, Hall of Fame coach Chaney stepped down and Fran Dunphy moved over from UPenn. For Christmas, it was a fresh slate.
In the new coach's first game behind the Temple bench, Christmas matched his career high in points. The second game, he came within a point of doubling it. Thirty games later, he led the conference in scoring at an even 20 points per game. He had emerged as a star. By his senior year,the guy who couldn't make his neighborhood team become the best collegiate guard in the city, hands down. "At this point," basketball legend Sonny Hill told me in the middle of last season, "if people would talk about the best guard in the city, they would have to say [Christmas]."
Next year, if he ends up in the NBA, things will be different. In college Dionte was a complete package; he could handle the ball, had a midrange game and could score from anywhere. Next year, against competition that's bigger, faster and stronger, he won't be able to. If he's going to make it — if he's going to earn his keep in the NBA — he's going to do it with one thing: his jump shot.
When most NBA teams look at Dionte Christmas, they see a single skill: the ability to put a round leather ball with a 29.5-inch circumference, hundreds of tiny goose bumps and four black stripes through a cylinder twice as wide, exactly 10 feet off a hardwood floor and roughly 25 feet away.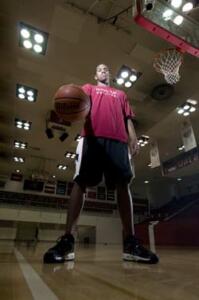 If his defense is merely adequate (and coming out of Temple, it will be), how well Christmas can perform that action, not quite a half-second in duration, will determine the length and success of his professional career.
Christmas knows this, and less than 10 minutes into our first conversation he wants to make sure I know it, too: "I can't jump 45 feet or whatever. But I can definitely shoot the ball with anyone they put me out there against. That's one thing I want to show teams: that I can shoot the ball."
In a sport with the singular goal of putting a ball into a basket, the ability to do so from a long distance is extremely valuable. Shooters can not only score, but their presence forces defenders to guard them in places wherethey're not generally taught to defend. This opens up the floor for teammates to score closer to the basket.
The ability to shoot, though, isn't often a natural one — it's the product of hour upon hour of repetition. "Teaching guys to dribble and pass becomes difficult because it's so hard to teach decision-making," Hardnett explains. "Shooting a jump shot just takes time in the gym."
And Christmas has spent time in the gym. Before every practice, Hardnett has his guys put up 300 to 400 jump shots. From the summer before his junior year on, Christmas has been nearly doubling that. Every day, from 11th and 12th grade on, he shot 500 to 700 jump shots before he even started running up and down the court.
For a guy who has put up that many shots, and whose calling card is shooting from deep, Christmas' form is, to be gentle, unique. "His left hand is on the ball," explains Matt Langel, his position coach from Temple, as he watches his charge knock down another shot. "You wouldn't teach his shot in a clinic." It's true. Christmas' right (shooting) elbow juts out away from his body while his left arm matches it on the opposite side. In a textbook shot your shooting arm goes straight up while your guide hand barely moves. Both of Christmas' arms move away from his body on the release.
What he does well is get his shoulders square to the basket, and use his footwork to release without a lot of space. He understands spacing in a way that most collegiate players don't, and can release his shot before a defender reacts. The end result is unorthodox, but effective. Says Hardnett: "Dionte is probably, as far as a shooter, alone among all the guys I've worked with. No one I know or have dealt with can shoot with the depth and consistency that he can."
Unfortunately, while Hardnett's praise is impressive, it probably isn't yet wholly true. Last year Christmas missed far more three-pointers than he made — 197 to 107, good for only 35 percent from deep. Yes, he faced near-constant double teams, and was taking every low percentage shot for his team as the clock wound down, but for a guy whose calling card is hitting jump shots, 35 percent just isn't good enough. Hardnett swears that if you put Dionte Christmas on a team where he could just spot up and hit open jump shots, he'd be a lottery pick, but most scouts seem to disagree. Next week, if Christmas' name is called at the annual NBA draft, it will probably be out of the guaranteed money.
For NBA prospects, the difference between getting drafted in the first round and getting drafted in the second is often the difference between Miami and Moscow. First-round draft picks get guaranteed three-year contracts and the security of a roster spot that goes with it. More often than not, second-round picks don't make the NBA.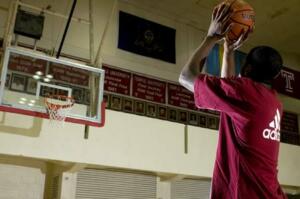 Over the last decade, 10 players have been drafted with the last pick in the first round and 10 have been selected with the first pick in the second round. In theory, the difference between the 30th and 31st picks in the draft shouldn't be huge. But if you ignore foreign players who were drafted and decided to stay overseas, every first-round player but one is on an NBA roster, while only four second-rounders are. It is literally twice as hard for the first pick of the second round to make the NBA than it is for the last pick of the first.
That doesn't mean making the league out of the second round is impossible. Take Michael Redd, another sharp-shooting, number-22-wearing, 6-foot-5-ish shooting guard who averaged 20 points per game his last three years of college. Redd, like Christmas, couldn't jump out of the gym. But since being drafted, he's emerged as an NBA star. He made an All-NBA team, represented the Eastern Conference in an All-Star game, played for Team USA in the Olympics and signed a six-year, $91 million deal.
"I definitely think there are some comparisons between us," says Dionte happily. "We use screens the same way, have similar footwork, and can both shoot the ball."
But stories like Redd's are few and far between, both because Redd is better than most second-rounders and also because of how lucky he was to land where he did. Not only did the Milwaukee Bucks go against the grain in keeping their second-round pick; they had him sit behind Ray Allen, one of the league's consummate professionals and all-time great shooters, to learn the game. Then, they held onto him after a rookie season in which he appeared in just six games. It probably didn't hurt that Milwaukee is a notoriously cheap franchise, keen on the idea of keeping a player making the rookie minimum. Redd was gifted, yes, but if he had been cut late in training camp, or if, say, the team had had the option of bringing in a Jason Kapono-type in the middle of his rookie year, Michael Redd may not have ever had a chance to prove himself on the NBA level.
Christmas, if he's going to make it, is going to need this type of break. He has to be good, but he also has to find a good situation.
Where you end up in the draft is the product not only of scouts analyzing your every move throughout college, but also a seemingly endless string of group and individual workouts. This has kept Christmas on the road for almost a month running. Last month he visited Toronto, then Washington, then Houston in three consecutive days. A week later he was in Detroit, San Antonio and Miami in the same period of time. When he came home last week, it was not to rest but rather to work out for Philadelphia, New York and New Jersey.
These workouts vary slightly from team to team. Charlotte, for example, stops drills frequently so that Larry Brown can see how players respond to coaching tips, while New York has guys run and gun. But the format is the same. The players run some combination of shooting drills and scrimmages. The coaches will try to get certain players matched up against one another, but other than that, the teams play and the coaches watch and take notes. Then, after a couple of short hours, everyone goes home.
For a player like Dionte, these workouts are critically important. College players' collegiate careers are essentially used to determine what tier they fall into. Then, once they're grouped, the workouts allow them to distinguish themselves. If Christmas shoots the lights out at a particular team's workout, that team will take a hard look at him. If he doesn't, the chances of that team drafting him drop to almost nil.
Thus far, he's been looking good. After a recent workout in Golden State, Gonzaga's Austin Daye singled out Christmas as "shooting lights out today," without even being asked about the Temple guard. Christmas himself says his three-on-three groups in the combines have begun to look for him when they need a bucket. He's keeping himself in the conversation.
Now, back in McGonigle Hall, Christmas keeps rising up and the shots keep falling down. If this skill impresses the right team and he ends up a first-round pick, great. If he doesn't (and he might not), he could end up playing for a minor league team or overseas in Europe.
For Dionte, you don't get the feeling that would be the end of the world. He'll have a degree, his family and the opportunity to make good money playing basketball somewhere. This is an opportunity he seems to appreciate. Christmas signs countless autographs after Temple home games because he remembers how seeing pros motivated him when he was young. And instead of wearing some cocky number on his back — say, 23 — he wears his 22 to honor Aaron Whitaker, a late friend of his who urged him to enroll at Temple. For Christmas, being a professional basketball player is a cool possibility, rather than a foregone conclusion or a fatalistic only hope.
The odds that Dionte Christmas is going to be playing in the NBA in five years aren't great: He'll need to keep shooting well, and he'll need a bit of luck. He's a long shot. Still, there he is in the gym, pulling up again and again, 500 to 700 times a day. He's trying to make that long shot as good a shot as possible.