In its nascent period, Seeking Arrangements was a meeting point for attractive users with an eye for the fine things in life and established singles wanting to spoil them.
Now rebranded as just "Seeking", the dating site is a luxury mainstream dating site for casual flings or long-term love.
Whichever category you fall in, Seeking is the best spot to land your next exciting date.
Launched in 2006, it has registered massive success, surpassing a landmark 20 million users back in 2018 and hitting a new high of 40 million+ users currently.
This Seeking review will take you through joining, its top features, how to meet singles, and interact online.
Sit back and get ready to meet the match of your life.
Vámonos…
An Honest Seeking Review: How Does It Hold Up in 2023?
Seeking Arrangements Pros
Lots of free features for ladies
Extensive user verification including background checks
40 million users across 130 different countries
Higher female: male user ratio (4:1)
Robust search filters
Video chat enabled
Available on the web and a mobile app
Seeking Arrangements private photo albums
Seeking Arrangements Cons
Cases of escorts posing as dates
Relatively expensive premiums
Mostly depends on looks
Reports of some minors getting through
Seeking.com Overall Rating
Seeking Arrangements, or, Seeking, gets a clean 9/10 on this one. And for many reasons, too.
It is effective in its mandate to find you the one you've been trying to find – whether you are after an attractive lad or an established individual.
I loved that navigation is a breeze, and you don't have to deal with busy, clumped-up user dashboards, as seen in some sites I won't be mentioning at this point.
Anyway, the pricing on Seeking Arrangements might be a tad higher than your regular dating site, but the experience is worth every green buck.
For instance, it has a clean video calling feature that allows you to have seamless virtual meet-ups and a 'members only' VIP section for verified Diamond plan members to meet and interact.
With all of this in mind, let's hit the details around my experience with Seeking Arrangements, so you can decide if the new Seeking.com is for you.
Seeking Review – Time To Unwind The Yarn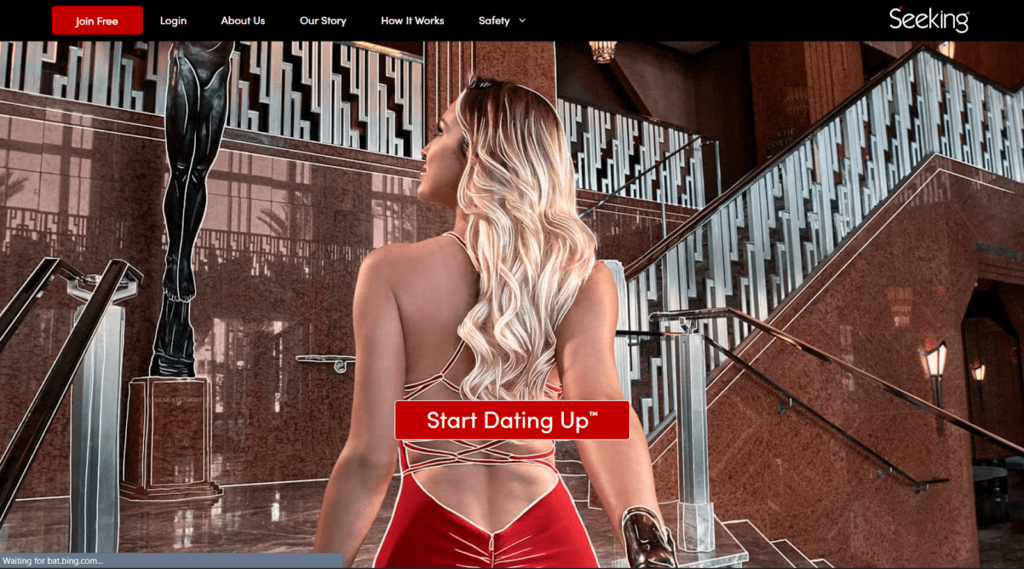 Joining Seeking.com was as easy as hitting the 'Start Dating Up' prompt on the home screen once I landed on the website.
Like the other dating sites, I had to declare my gender (whether a man or woman) and who I was interested in finding with the former Seeking Arrangements.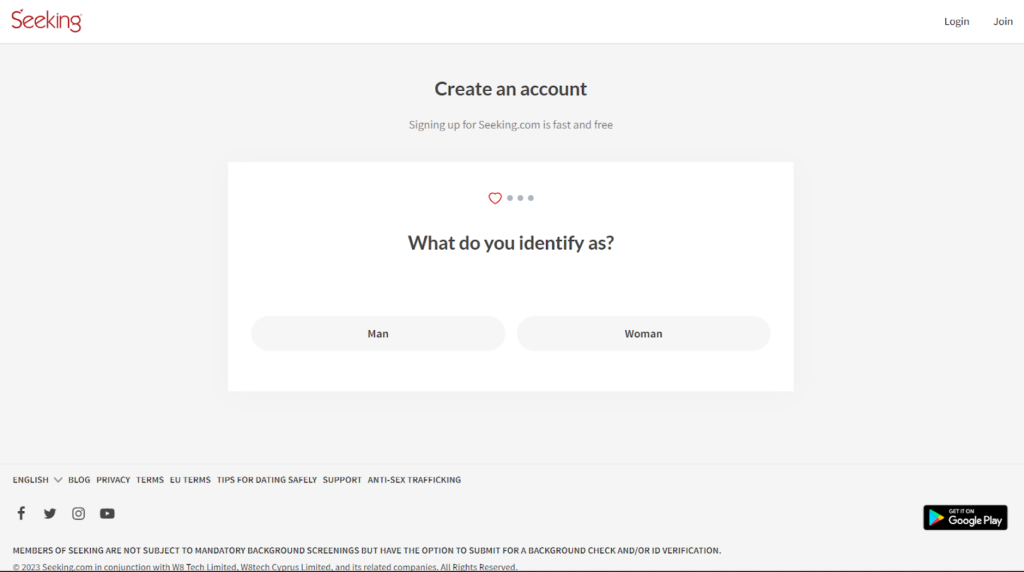 Then, I had to state whether I was interested in men, women, or both.
Honestly, I was feeling a bit iffy about the site being heteronormative, but it's obviously quite queer-friendly, to my relief.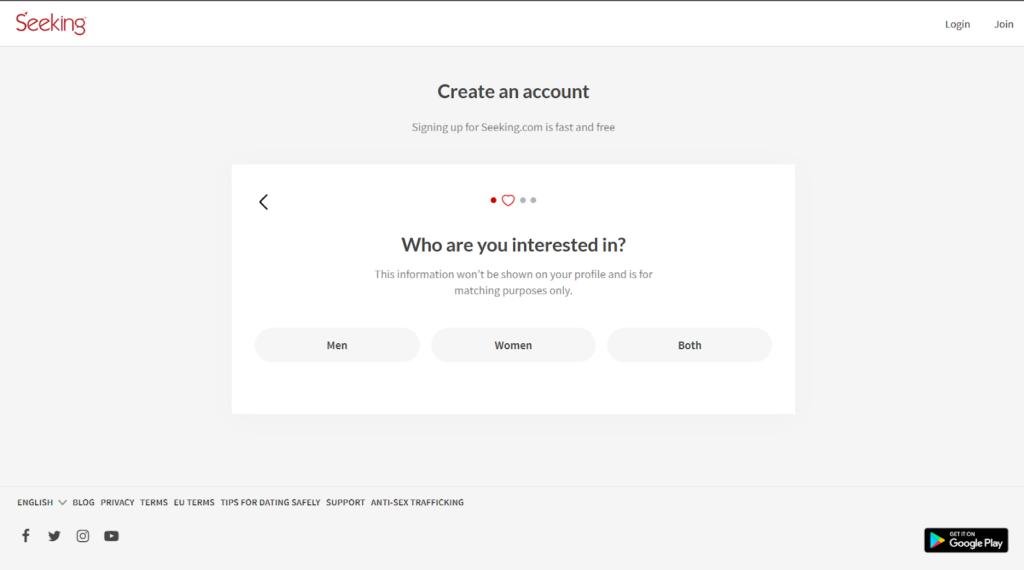 So, I was offered to choose whether I wanted 'Successful' or 'Attractive' members, so the site knows which card to deal me with.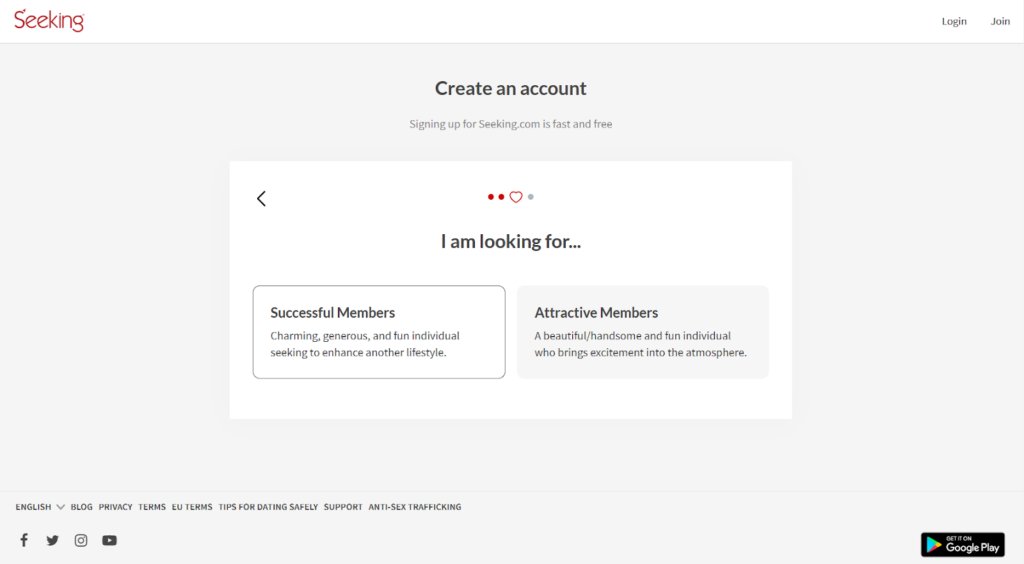 Next, I keyed in the necessary working email, created a strong password (avoid using your name and year of birth, BTW), then stated my birthdate.
Open Sesame. I was in.
If you're not a fan of sign-up protocols, you can use the Facebook prompt to sign up with your Facebook account in one simple click. It's simpler and shorter.
But keep in mind that this approach is less discreet.
Profile Setup On SeekingArrangements
The final step was to create my public profile, which other Seeking Arrangements users could read through to decide whether we were compatible.
Here, you can be open about your social life, educational background, and preferred age group to match with.
After filling that up, I crafted a short, catchy intro to let other users know what I am all about and what they can expect from me.
And since I had already seen what I was up against, I uploaded a couple of my too-hot-to-handle photos to let my competition know a new player had joined the building.
Plus, it always attracts more people to your profile.
What Does a Free Seeking Arrangements Version Get Me?
Apart from the free registration, Seeking.com also has a couple of other free treats you may enjoy. Especially women. I discovered that ladies could access all the site's interactive features without spending a dime. 
How's that for a proper welcome to Seeking Arrangements?
As a cis man myself, I could browse around the homepage with a free account, and it helped give me a feel of what the reborn Seeking is all about.
I loved the site's classy graphic layout and enormous profile thumbnails. It made reading through bios and 'scrutinizing' the endless list of gorgeous babes worthwhile.
Away from that, here are other freebies I thought you might like:
1. Profile Visits
I loved that I could browse through other users' profiles and view their public media galleries and bios.
All these were users I had matched with based on my preferences, making the experience much more engaging.
2. Create Your "Vibe"
The vibe is a novel interactive feature introduced in the new Seeking that Seeking Arrangements didn't have. It's their take on social media stories that expire 24 hours after uploading.
I loved that I could either upload more stunner photos, short reels of me grooving to my favorite jams, and upload them to give myself (and other users) more chances for striking up a conversation.
And the best part?
I could also watch matched users' vibes on my free account.
No way was I going to pass that up.
3. Favorites
Whenever you find multiple matches that catch your eye, you need a place where you can compare interests and decide who is more compatible with your goals.
So, the best way I could keep them at arm's reach was by adding them to my Favorites list by hitting the love button beside their profiles.
4. Upload Private Photos
While a public gallery caught the attention of my suitors, a private gallery stretched its antennas.
And the beauty is that Seeking provides this feature to everyone, whether paying or not.
For exclusivity, I uploaded several private photos and could grant access only to whoever I chose whenever a conversation seemed promising.
I was also privileged to enjoy the spicey sexiness hidden in the private galleries thanks to a few generous souls who found me worthy.
Sigh.
Sadly, the free features only go so far. Making contact is where Seeking.com draws the line.
And to message the other paying users I was crushing on, I needed a membership.
RELATED READING: Best escort sites
What's The Deal With Seeking Premium Membership?
Seeking is a premium luxury dating site with lots to offer, but it will cost you a fair penny.
To start with, Seeking charges a verification cost of $50 if you want to have a higher chance of success when looking for a match. The verification process is not instant, though. You'll have to wait a couple of days, after which you will get the verified label.
Seeking's strict verification process also includes a background check which helps the site confirm if you're truly who you claim to be. This makes it very difficult for a sleazy spammer to cheat about their real wealth or work.
Hurrah!
After rebranding from Seeking Arrangements, Seeking decided to add another premium tier, the Diamond Package for VIPs in the house. It gets you a special badge and mentions the special features on the 'Attractive Members' list.
In a nutshell, the membership costs are as follows:
Premium membership—$109.99/month
3-month Premium package—$96.66/month ($289.99 total)
Diamond Membership—$274.99/month
Seeking accepts payment through credit cards. You can remit your payments through your VISA, Discover, and AMEX, just to mention a few.
Unfortunately, they don't accept American Express for non-USD payments.
But there's a way out.
You can use your PayPal instead to buy your premium subscriptions if you are a user outside the US. It's no hassle at all.
Also, it's much cheaper to purchase longer-duration packages as they have better discounts per month.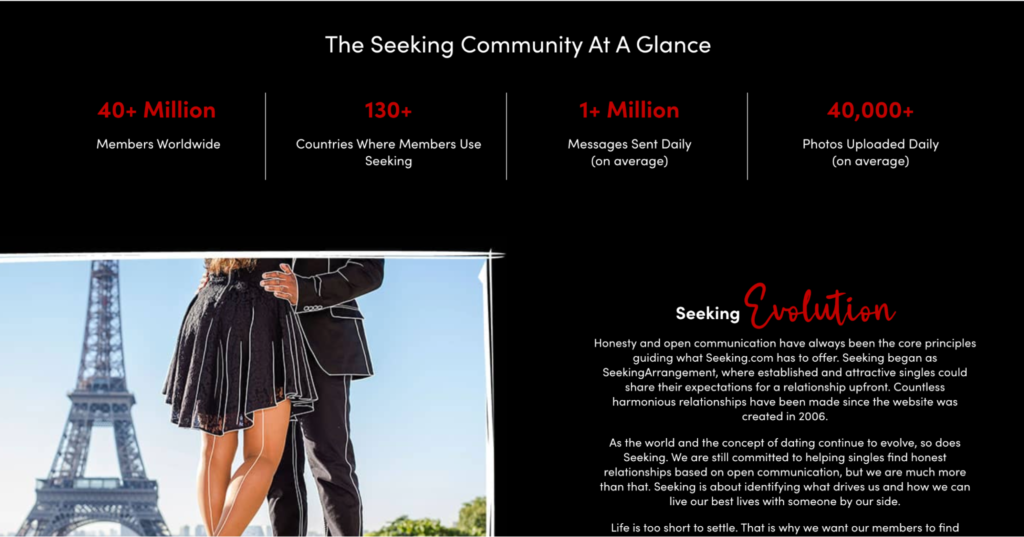 What Are the Premium Features?
I am glad you asked.
I was utterly pleased that my interaction as a premium member of Seeking was just as advertised.
Visit Seeking directly by clicking here
1. Unlocked Conversations
As a fully bonafide Seeking Arrangements member, I could now initiate chats with a prospective match and even view/reply to their messages.
This made things a whole lot better on many levels as I graduated from a 'spectator' to an active participant—wooing pretty girls with some mighty-serious pick-up lines from Wall Street.
2. Keep Notes on Other Users
Online dating can be cumbersome in the early stages. You might have a full inbox with lots of new conversations that might be a handful to keep up with.
Not to worry, though. A premium upgrade on Seeking allows you to keep notes on other users, which only you can see.
This is one of my best features as it helped me, more than once, avoid making the wrong reference in the right inbox.
Phew! (Nervously wiping my brows)
3. Profile Boost
The Profile Boost feature is available with a Diamond plan and helps you put yourself out there. It highlights your profile, putting it on top of the pack to be seen by other users looking for matches.
Believe me…
These boosts got me noticed, leading to multiple users messaging me. This spawned a few first dates(some more awkward than others), and I am still chatting with one of the matches.
So, fingers crossed!
4. Incognito Mode
If you are still working your way around online dating, you can go in and test the waters anonymously. 
To tinker with it, I hid my online status, the date I joined the site, and the location just to make my prospects more curious.
Of course, I gave access to a couple of attractive souls every now and then when I could not overcome their overwhelming charm.
Finding Your Match on Seeking.com
After I was settled and had my profile sorted, Seeking Arrangements was kind enough to present me with some decent suggestions of users logged in within my city.
I was always thrilled because the site showed online users, so it helped me know where I could focus my efforts and get a good conversation/engagement in return.
Good company online should not be underrated.
The large thumbnails highlighting the other users are pretty dope, giving you a good view of who you are about to engage before selecting a profile. They show a member's entire face, with just enough room to catch their tagline, age, number of photos, and location.
Available Search Categories
Now, as much as sifting through countless profiles is often exciting and fun, it can become monotonous, and you can also tire yourself out.
Plus, some of us are very specific with our tastes, and Seeking seems to know that.
That's why I enjoyed their intuitive search filters that often helped guide me to my perfect match.
Their different search parameters include:
Specific location
Distance from your location
Premium users
Users who have viewed you
Users who have Favorited you
Verified users
With photos
Body Type
Height
Age
Social demographics, e.g., drinking, smoking, and education
I know, I know… Sometimes all this can become overwhelming.
So, whenever I felt like it was all too much, I simply cleared the search filters by clicking on 'Reset All', and I'd have a clean slate again.
Interacting with Others on Seeking Arrangement
With all the basic formalities out of the way, we can finally get to the best part – dating.
Virtual dating is only fun with a two-way conversation. That's why legitimate dating sites like Seeking.com invest a lot of time and money in creating the perfect virtual dates.
With female users outnumbering their male counterparts 4:1, it was not long before I had a bevy of beauties jostling for my limited attention.
Now here's the deal maker for me…
Once I had a long enough conversation with someone, I could set up video calls with my matches using the Seeking Arrangements private chat feature, which helped take my virtual dates to the next level.
The video chat function also helped me when I had doubts about some users' profile photos and needed to 'countercheck' their authenticity.
What's more…It helped me bond with one of the beauties, allowing the conversation to flow naturally.
There's a kicker though. Not all users have video chat enabled.
If they want to video chat on Seeking Arrangements, you will see a camera icon on your message thread. No camera icon means the user doesn't want to use the video chat feature.
In my opinion, this is a red flag because usually bots, scams, or catfishers don't want to meet someone on camera after a while.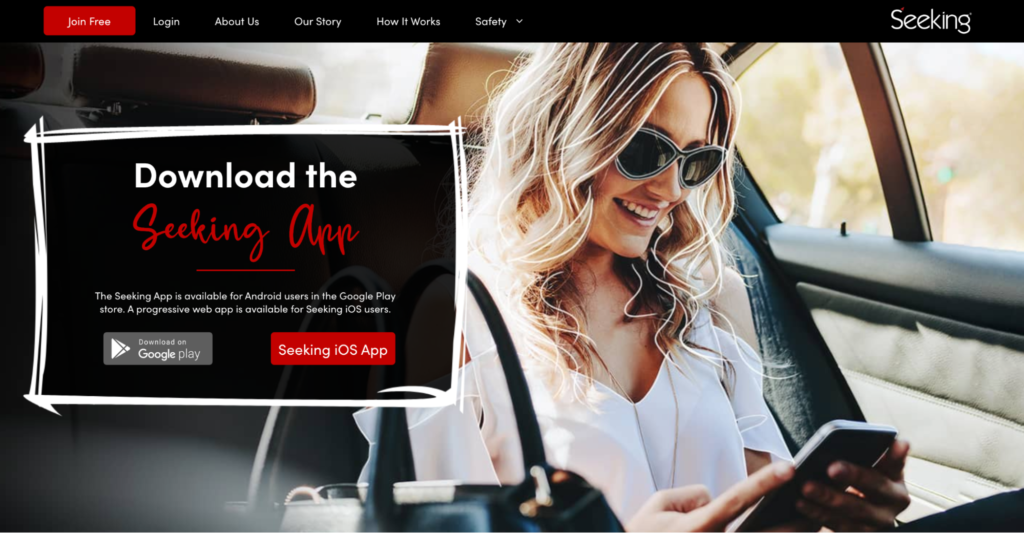 Other Fun Features on Seeking Arrangements App
1. Wish List
This is a handy feature that lets ladies put together a list of things they prefer to get as gifts from the perfect gentleman.
As usual, the men will go out of their to get what they want. And what better way to smoothen the road to a woman's heart than some quality time and a desired gift?
If you want, you can buy the items on the wishlist using real cash and ship them to the member you want to impress. Your shipping/billing information is only available on Seeking and is not shared with any third party.
Guys, this is your best chance to skip to the front of the line. Spruce up your first message with a gift to show her how serious your intentions are.
2. VIP Sections
As the title suggests, these are special rooms reserved for the top Seeking users on a Diamond Membership plan.
All the users here are fully verified, complete with a background check badge that proves everyone is indeed who and what they claim they are in terms of net worth.
You have higher chances of success if you ever find your way into this elite pool of members.
How Does Seeking Compare?
With the likes of Adult Friend Finder and Ashley Madison in the same race for supremacy, you can't deny that competition is stiff.
As seen from this Seeking review, Seeking still stands out in various aspects and slightly falls short in some.
But hey, no one's perfect anyways, right?
So, here's how it fares against its competitors in the dating scene:
1. Membership Quality
In terms of membership quality, Seeking Arrangements is a premier dating site that only takes in the elite amongst its rams. That's not the case with other dating sites like Adult Friend Finder and What's Your Price.
2. Is Seeking Great for Affairs?
Seeking isn't a hub for attached individuals like Ashley Madison. Most of its users are singles who are not currently attached/married and just want to have a casual dating relationship.
3. What About Serious Relationships?
Seeking Arrangements will also sort you out nicely if you want a serious long-term relationship. It does accommodate casual hook-ups like Adult Friend Finder and Tinder, but a few serious unions have been hatched from its bosom.
4. Pricing
In terms of pricing, Seeking Arrangements is way above the regulars. Established Men and Elite Singles might be the other top-cream dating sites with a similar premium ceiling. Still, you can't truly put a price on Seeking's elegance and flamboyance.
5. User Verification
Unlike other dating sites like AdultFriendFinder, OkCupid, and Plenty Of Fish, Seeking is very thorough with its ultra-strict user verification.
Catfishing is a rare occurrence because all photos are verified before posting, and most users are serious, well-off individuals. Yet, I remained vigilant, because sometimes people slip through the cracks.
RELATED READING: Best celebrity OnlyFans
Seeking Arrangements App Review FAQs
Can I Use Seeking.com for Free?
You can use Seeking for free, with only a few introductory features. Females get the bulk of free features, including free messaging.
A basic free account will show you your matches and get you into their profiles. You'll have to subscribe to a premium plan if you want access to chat or its interactive video features.
Does SeekingArrangements Have Reliable Customer Support?
Yes, SeekingArrangements has a reliable customer support service. You can access the Support Center by scrolling to the bottom of the homepage and hitting the 'Contact Support' button to get redirected.
The site also has a well-detailed FAQs section where they provide answers for every inquiry you might have. You can also search for specific issues by keying them down on the search bar, and the results will be generated immediately.
If you need further assistance apart from the guides, you also can explain your issue to a human agent via email, who will get back to you with a solution in no time.
Can I Get My Money Back If I Cancel My Seeking Subscription?
No, you cannot get your money back if you cancel your monthly subscription since Seeking does not have a money-back guarantee.
However, if you cancel your subscription—let's say—in the middle of the month, you can still use the remainder of your membership period, after which you get reverted to your free version.
How Do I Make the Most of My Seeking Experience?
To make the most of your Seeking experience, you must:
Be your authentic self on your profile. This gives your potential suitors a clearer picture of who you are and reveals your intention from the word go
Declare your preferences, so that Seeking's matching algorithm can only suggest profiles sharing similar tastes with you
Practice patience. Don't be in a rush to find a date/hookup. It makes you look desperate, no matter how sincere your intentions are. Plus many people have fallen victim to scams and disappointments this way.
Use the video chat option when in doubt of a user to help you verify their identity and generally get an understanding of their personality
Keep personal information confidential, like your physical address, contacts, and bank details. This way no one will scam you or potentially harm you in any way.
Always meet in public and let someone close know about the date. This can be friends or family, so someone can have your back in case you need help getting out of the situation.
In the End, Is Seeking.com Worth It?
In my opinion, Seeking is a fantastic dating site, where you can find real people who want the same thing as you do.
With a unique interface that's quite the looker and unmistakable matching precision, they attract users like umbrellas on a rainy day.
Seeking.com is a go-to dating site/app if your new year's resolution is to throw yourself into a posh dating ring.
Hope you land in the right corner.
All the best in your Seeking adventure.
I'm rooting for you!
Related articles: