Is it safe to say we're over the whole "eating food from a truck" thing? Because there are some serious eats being produced by the city's meal mobiles. We know, we know: You got a breakfast sammich from the guy who picks at his toenails between orders (true story), and then got totally skeeved out by the whole concept. But listen, gang, food trucks are a part of this city's cultural fabric. They bring so much life to our otherwise dirty streets. And eight little trucks in particular—finalists in Philly's first Vendy Awards competition, the most prestigious sidewalk-chef cook-off known to man—are churning out cheap, fresh fare that'll blow your friggin' mind. We should know—we checked out all of what they had to offer (with the exception of one, which was closed due to a death in the family. Our condolences).
Our goal was not to see how the trucks compare with one another. You won't find ratings here. That'll be the job of the judges—one of whom is our very talented Music & Food Editor Brian McManus, who was in no way involved in the making of this story—this Sat., July 9, at the Piazza. Our mission was to have regular folks, nonexperts if you will, trying out the same stuff you may very well have for lunch today. They're food trucks, after all. Everything about them, including their reviews, should be accessible.
That being said, we took note of ambiance, time we spent waiting in line, location, price, customer service and, of course, taste. Our field trips took us to places we never imagined. We sat in the beautiful, shaded garden surrounding La Copine, which serves locally sourced, farm-fresh brunch specials in NoLibs. We chased Guapos Tacos from Love Park to Clark Park just so we could get a nibble of those oh-so-succulent pulled-pork tacos with fresh pineapple. We devoured macarons—French cookies that look like fancy Oreos—from Sugar Philly on a steaming hot day, washing it all down with fresh, bold iced coffee. Thai-Mexican from Cucina Zapata near Drexel? We no longer have to fantasize about how fuckin' awesome that sweet-spicy union is. Sweets and meats, people. It's beautiful.
We now present to you the eight finalists in the 2011 Vendy Awards. Keep on truckin'! (Nina Hoffmann)
Guapos Tacos
Mon, Tues, Wed, Fri: Love Park; Thurs: 43rd and Baltimore at Clark Park. guapostacos.com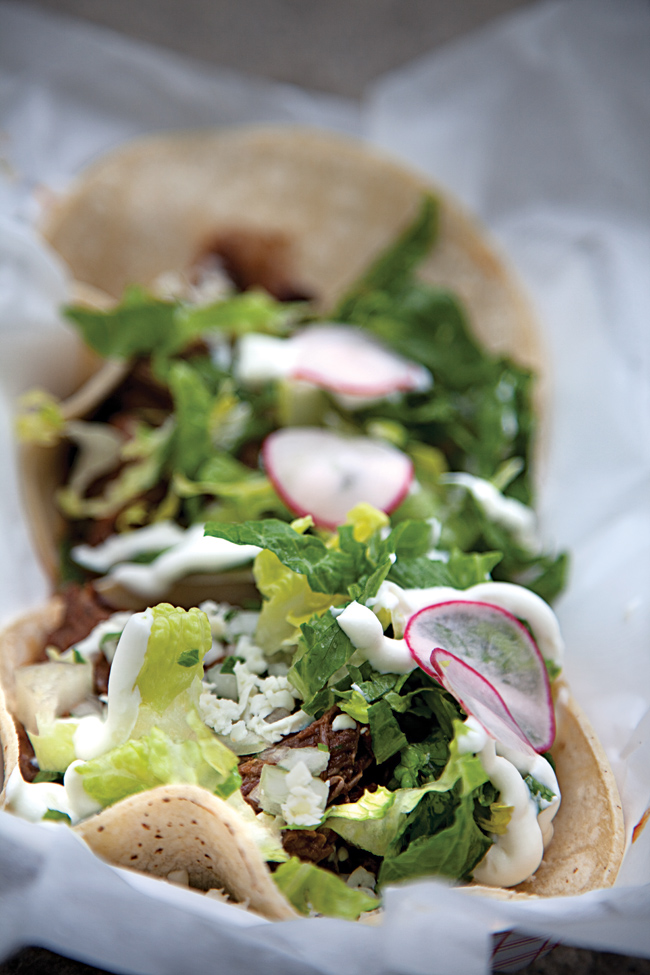 We all know that when it comes to eating out in Philly, there are two choices you're likely to weigh: Starr or Garces. Both are powerhouses, serving up a variety of cuisines in every corner of the city. But it's possible Iron Chef Jose Garces finally has Stephen Starr beat with Guapos Tacos, a little lunch truck packing big-flavor punch. With menu items like fresh guacamole, esquites (sweet corn topped with queso fresco with a dash of chipotle and a hint of lime),
tamales and a slew of soft-taco options like chipotle short rib, duck, carnitas, fish, mushroom and chile chicken, Garces stays true to authentic Mexican flavors.
I sampled the esquites ($4), a sweet corn side dish topped with queso fresco and chipotle seasoning for a kick. The corn was fresh and slightly buttery, and the cheese and spice complemented it well without being too overpowering. The chipotle short-rib taco ($7) is accompanied by black beans, white onio
ns, radish, cilantro and cheese. Though all the ingredients were fresh, the toppings distract from what should have been the main event: chipotle-seasoned meat. Maybe it was the seasoning or slew of other ingredients, but the chipotle was not as spicy as I hoped. Next came the carnitas taco ($7): pulled pork with diced pineapple, onion, cilantro and black beans. The pork had a little more kick than the short rib, but the pineapple and onion juices complemented the spice and sent my taste buds to a beautiful tropical paradise. The Pescara Taco ($8) isn't a frequent flier on the Guapos truck, but it definitely should be with the lightly battered mahi-mahi topped with julienned cabbage, diced tomato, cilantro and fresh cream. Sure, fish from a truck sounds, well, fishy, but not if it's from Papa Garces. The mahi-mahi was light, fresh, flaky and slightly sweetened from the cabbage-cream-tomato-cilantro quartet. The fact that the Lonely Island's "I Just Had Sex" came on after swallowing the last morsel of the fish signaled that my mouth just had an orgasmic and tasty experience of outrageous proportions.
Where Guapo
s Tacos gains points for taste, it loses for price. The tacos range from $6-$8 and are served with two per order, but if you're a big eater, these portions could be considered small. You shouldn't be waiting any more than five minutes for your gourmet goodies, but the truck often sells out by mid-afternoon. So get there early—you really can't miss this bright truck adorned with thousands of beer bottle caps and blasting the "Time Warp." Pick up an authentic Mexican soda in grapefruit, mandarin or mango for a little mid-day feast-esta on the steps of the Love fountain. For daily hours, locations and details, follow the truck @guapostacos. (Alexis Sachdev)
Cucina Zapata
31st and Ludlow streets. Serving lunch.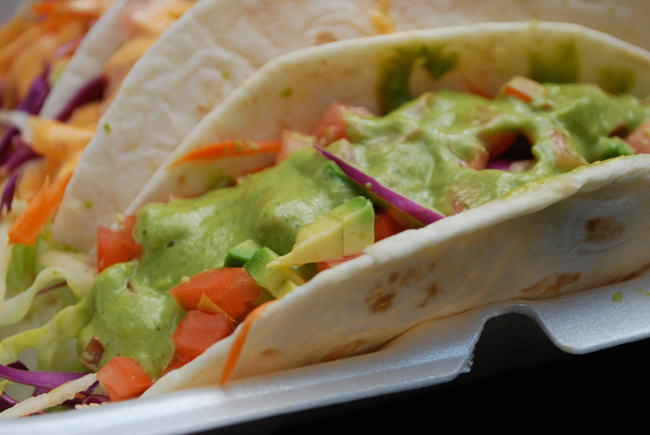 Self-described by owners Rob and Ruk Zapata as an amalgamation of Thai and Mexican cuisine, one of Drexel's newer trucks—Cucina Zapata—is certainly
making its presence known in the roughly three months it's been open. The first in a long line of lunch trucks, Cucina takes Thai classics like satays and curries and wraps them up in soft tortillas. But don't expect to chow down on some Taco Bell tacos doused with Sriracha sauce. This truck's dishes are made with fresh veggies and the cleanly cut meat is cooked on-site.
Three of the truck's specialties are the Thai Short-Rib Taco, the Chicken Satay Taco and a Thai Sweet Potato Curry, which can be served over rice or on a tortilla. The Thai Short-Rib Taco features a spicy chili sauce atop succulent short ribs. It's packed with lettuce, julienned carrots, apples, pico de gallo, peanuts and onion. Though the spicy chili sauce isn't for all palates, the fresh vegetables provide a cool and refreshing twist to the explosive sauce. The Chicken Satay Taco, a coconut-marinated chicken with pico de gallo is doused with avocado, spicy peanuts, mangos, lettuce and red cabbage. Were it not for an inconvenient avocado allergy, I would have been all over this. Sweet potato chicken curry–by far my favorite–blended diced sweet potatoes and curried chicken with onion, coconut milk, cabbage, lettuce and carrots. The final product tasted more like Indian aloo gobi than anything Thai, but the spices weren't too overpowering and the flavors appeared like layers: First came the curry, then coconut milk and onion, and finally the soft and spicy sweet potato to bring everything home. For the more plain or daring foodies, the truck offers varying degrees of spice from mild to hot for every dish. Unless you're familiar with Drexel's campus, this spot can be a bit difficult to find. Ludlow is between Market and Chestnut streets, and doesn't have much in the way of available parking nearby. It's definitely ideal for those walking distance away, and with other trucks lined up, it's a great location for lunch with friends or co-workers. Don't expect it to be quick, though. Although I arrived after the lunch rush around 2 p.m., I waited more than 10 minutes for three tacos. But, with pleasant service, appetizing presentation and a nice price—$8 for three tacos and two bottles of water—I'll definitely be returning to try the Captain Crunch Tilapia Taco. (A.S.)
King of Falafel
Mon.-Fri., 11am-2pm. 16th Street and JFK Blvd.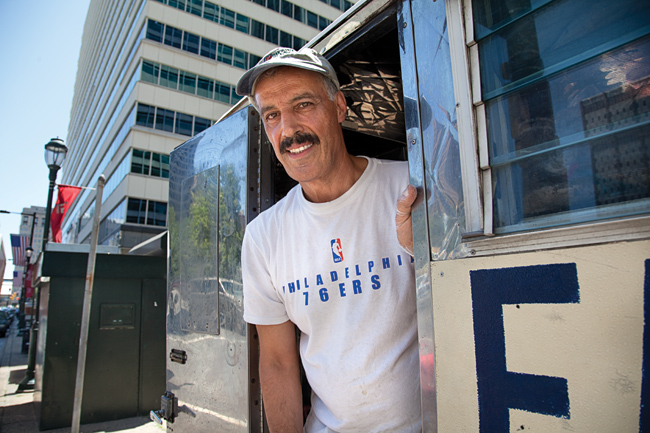 It's safe to say that after 22 years of business, the Middle Eastern food truck King of Falafel knows exactly what its doing. The self-proclaimed royals are located on the corner of 16th Street and JFK Boulevard. If you consider yourself royalty, you better be able to back it up with some good eats. This truck is turning out falafel constantly throughout the day, so gross and mushy bites are not even an option. The falafel is fresh, as is everything on the menu. I took my first bite of the falafel with hummus and I was instantly hooked. It's deep-fried but shows no signs of greasiness. The crunchy falafel is spread equally throughout this hefty wrap combined with fresh lettuce, tomatoes, hummus and tahini sauce. Garlic instantly hits your taste buds and pleases your senses. The wrap is a decent size especially since the wonderful lady behind the counter only charges $3.75 for it. The service is friendly and speedy. I received my food within minutes of ordering with a large line in front of me. Tabouli salad, shish kabobs, lentil soup and falafel platters are just some of the additional options available on the menu. Love Park is just across the street, which is the perfect place to chow down. How the pleasant lady produces such quality food in such a tiny food truck will never make any sense to me. She defies the odds. I guess this is precisely why they are the kings—and queens! (Melissa Straube)
Gigi and Big R Caribbean/American Soul Food
38th and Spruce streets, and another location at 30th and Market. Mon.-Fri., 11am-10pm.
Boldly claiming it serves the largest platters in Philadelphia on the side of its truck, Gigi and Big R (a mobile version of its main restaurant, Gigi Rene's on Haverford Avenue) is somewhat of a dinner truck disguised as a lunch truck—the food itself and the large servings will give you that sluggish, post-lunch feeling that'll have you reaching for your Starbucks mug or your travel pillow. The $7 platter (the small size) included enough food for two nicely sized meals. I'm generally tough on soul food—my grandmother grew up in the Deep South and cooked better than any chef on the planet, and my great uncle put down a mean fish fry. To top them, in my eyes, would be a miraculous feat. We sampled the fried fish with mac and cheese and string beans as our chosen sides. The fish had a nice flavor, and the well-seasoned batter used to coat it was still crunchy after sitting for a while. Not an easy feat for fish fried on a truck. But the trouble came with the side dishes. The mac and cheese was almost unrecognizable. The cheese had a waxy, artificial taste. The cut string beans had a bit of crunch, but little flavor. I don't do spicy so I didn't try the jerked meats, which, according to other customers in line, are like flames being set in your mouth. But even with the large number of customers, it didn't seem like the Caribbean dishes were immediately popular. Every customer who ordered while we were there got fried fish or chicken. (Darren White)