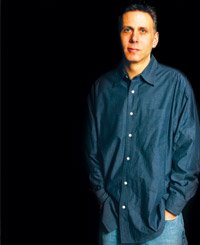 More people are familiar with Tera Patrick than will admit in mixed company. And her renown, acknowledged or not, is a major reason why she's been tapped to co-host the 25th annual AVN Adult Movie Awards on Saturday.
"Adult is mainstream now, but the AVN awards are still the one day of the year that the performers are validated for all the hard work we put in," said the curvy, dark-haired beauty weeks before taking the stage.
This year's ceremony at Las Vegas' Mandalay Bay Events Center will also serve as validation for AVN founder Paul Fishbein. Now the company's president, the publisher from Northeast Philadelphia has guided every step of the magazine's rise. It's now considered the bible of the adult video industry.
In its current form, the glossy 200-plus-page monthly melange of skin-flick ads, industry-news blurbs and feature stories is much evolved from the eight-page black-and-white newsletter that Fishbein, Barry Rosenblatt and Temple classmate Irv Slifkin created back in 1983.
It was long before then, however, that Fishbein realized he wanted to get into the magazine business. A fervent wrestling fan as a teenager, he cobbled together a quarterly fan zine called Universal Wrestling out of his parents' home on Bustleton Avenue and Verree Road. While selling subscriptions for $10 a year, he also had a lucrative side business.
"We'd print bootleg wrestling programs and sell them outside the Spectrum for $1," laughed Fishbein from his Los Angeles office in early December. "Our parents would drive us down there; we'd hand them out, go see the matches and count 300 or 400 one-dollar bills in the car on the way home. That was a good little gig."
His accomplice in the wrestling-program racket was classmate Stuart Franks. In Franks, the son of a printer, Fishbein found an important ally. So important, in fact, that the two are business partners today with Franks' Philly-based Printers Trade company handling distribution for all AVN publications.
"We always deal with our issues, and if we disagree we put it behind us immediately," says Franks about the partnership. "It helps that I've always thought [AVN] was a great idea."
The AVN idea was born in a video-rental shop on Castor Avenue called Movies Unlimited. Now a mail-order video retailer located in a warehouse near the Northeast Philadelphia Airport, Movies Unlimited once had shops throughout the region, and Fishbein and friend Irv Slifkin worked as clerks for the company while attending Temple. Nearing graduation, the aspiring journalists brainstormed what to do next.
"We noticed that people who had VCRs for the first time kept coming in wanting us to recommend porn films," says Fishbein. "We didn't know. I'd seen five or six in my life."
To address the void, Fishbein and Slifkin teamed with Rosenblatt, a graphic-design student, to create a sample issue. They advertised in the back of men's magazines, and before long video-rental shops across the country began requesting the newsletter.
Slifkin, a film buff, saw the opportunity as a chance to write about adult cinema as a legitimately artistic pursuit. It took only a year for him to realize that adult "filmmaking" was changing with the burgeoning home-video industry.
"The product was getting worse," says Slifkin. "It didn't interest me as film anymore. With the shot-on-video, all-sex stuff taking over, reviewing the movies became more of a chore. How many ways can you write about movies that are all sex? It just bored me."
After Slifkin's exit, Fishbein and Rosenblatt got an office on Castor Avenue. Three years later a falling out between the remaining two founders left Rosenblatt with the office and Fishbein with AVN, which he went on to operate out of Upper Darby until 1991. At that point the adult industry had become well established in California's San Fernando Valley and it made sense for Fishbein to move his publication west.
Over the years AVN has grown with the industry it covers and become an integral cog in the multibillion-dollar adult entertainment machine. It looks to continue to gain exposure with rumors swirling that big-name cable networks have expressed interest in airing their awards' ceremony, a staple of Playboy TV for the last decade. But with his successes, Fishbein has had his share of setbacks.
AVN incurred heavy debts early (they were paid off in large part thanks to Franks being added as a partner after Rosenblatt's departure). And there have been personal issues. Fishbein is on his third and, he claims, "final marriage" to a former adult actress. Then there's The Money Shot, a production Fishbein financed with his own money in 2000. The series aired as a dozen 10-minute episodes on iFilm, and Fishbein envisioned it as his ticket to producing mainstream fare.
"I got meetings at HBO, Showtime and Comedy Central, but they didn't want to pick it up," he remembers wistfully. "So I wasted like $100,000, but at least I took a shot."
These days Fishbein's side project is his family. The 48-year-old had his first child, a daughter, 18 months ago.
"He's always been a little type-A since I've known him," says Slifkin. "But I think having a child has settled him down and grounded him in different ways."