say college; you say kegger. I say naked; you say co-ed. It's no wonder university sex rags can't get no respect.
JiaJia Fei, an aspiring photographer and junior art history major at Bryn Mawr College, wants to change that. And she may have founded the perfect literary erotica magazine to do it. Where we say carnal, Fei says conceptual.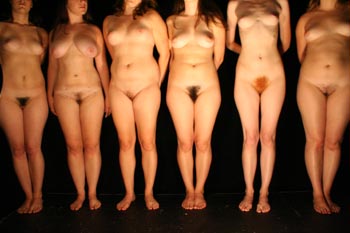 Photo By: J. Fei
Virgin Mawrtyr is not revolutionary in its content; it's packed with much the same poetry, personal narrative, repurposed term papers and sex toy reviews as Harvard's H-Bomb, Penn's Quake, Vassar's Squirm, the University of Chicago's Vita Excolatur and Swarthmore's defunct Untouchables. But the magazine's feminist take on sex, sexuality, gender and the human body, coupled with an all-female staff catering to female undergraduates, makes it a notable and worthy addition to the campus-sex canon.
Where some college publications run contrived images of girls making out, showering, fingering themselves, etc., Virgin Mawrtyr's work is remarkably dense and arty. Yes, the nude models in the upcoming first edition are Bryn Mawr students. But the soft, female bodies are not merely naked; they're simply canvases on which Fei can string Christmas lights, merrily pile books or coax into a tender embrace. Six naked girls lying side by side is not an orgy; it's "a conversation of bodies." Nothing is done gratuitously; that Fei's friends and classmates are shot without clothing is a footnote in a great novel.
But in order to really wrap your head around Virgin Mawrtyr, and to distinguish it from other sexy/cerebral mags, you must first wrap your head around Bryn Mawr.
"People always ask me if it's a lesbian college," laughs Fei, shaking her head. "They don't understand why I go to an all-women's school."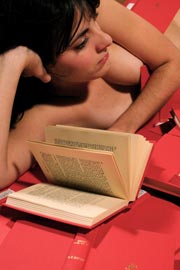 Part of the original "seven sisters," the blue-stocking femmes to the Ivy League chaps, Bryn Mawr is one of only a few dozen women's colleges in the country.
Fei speaks with great reverence about her small but diverse school, using words like "empowering" and "incredibly open" to describe its culture. And despite some erroneous rumors regarding a canceled fundraiser, Fei says Bryn Mawr has been nothing but supportive of Virgin Mawrtyr since its inception, even offering minor financial support to the mostly self-funded project.
Fei began shooting nudes last year when a "very kinky friend" filed a request for some very kinky portraits. Fei jury-rigged a studio in the basement of the school library, borrowed a projector from one of the classrooms and photographed her friend naked against ethereal slides of Picasso, Degas and O'Keefe paintings.
It's conceptually based nudes like these, "nudes that make you think," that have helped to establish Virgin Mawrtyr's reputation on campus — and led to a waiting list of more than 40 ready-to-strip models. That Fei namechecks Butler, Mapplethorpe, Newton and Leibovitz as inspirations, and sees Titian's Venus of Urbino where others just see flesh, can't hurt either.
I ask Fei if she thinks she'd have nearly as enthusiastic a reception if she were male on a co-ed campus trying to do the same thing. "No. Absolutely not," she says. "This is women's erotica. It's only women, focusing on women. I'm just surprised no one thought of it first."