Genuine liberty is at a real, raw deficit when it comes to the Supreme Court's dismantling of Roe V Wade and women's abortion rights (to say nothing of SCOTUS' promise of coming for gay and contraceptive rights next). Certainly, Black and Brown America live daily with their just civil rights in question.
All that, and still, there is no way that Philadelphia, the cradle of liberty, won't be celebrating the July 4 independence holiday like its 1799 (yeah, that jokey Prince riff doesn't work here, but bear with me).  Welcome America on the Parkway. Fireworks along the waterfront. Old City's Museum of the American Revolution hosting a naturalization ceremony (?!): this is outrageous family fun; perhaps, however with an emphasis on the outrageous.
That's because latter-day history, the power of myth, and Lin-Manuel Miranda have painted more intricate, honest portrays of who and what America's history and its wiliest personalities were all about.
George Washington was a standoffish slave owner.
Thomas Jefferson was a not-so-standoffish slave owner who was quick to impregnate.
John Adams was a mudslinging campaigner and a nasty gossip.
Benjamin Franklin was a womanizer.
John Hancock was a hot dog.
Alexander Hamilton was a cheater and a bad shot.
One could say that any cheerful regaling of America's roots, without such hardcore details and post-historical revelation and reevaluation, would be phony and wrong, just another trail of misinformation for which we must backtrack.
Enter Theater Unspeakable and its June 28 through July 4 rendition of what-once-was, The American Revolution. Taking place at Old City's Revolutionary War-vintage Christ Church Neighborhood House (20 North American Street), the Chicago-based touring theater company (with Philly-based actors this time out) specializing in creating original performance pieces based on well-known topics in tight settings (their motto: "Big Stories in Small Spaces"), runs through America's early days of the 1770s, with a heavy emphasis on the town they're talking to, Philadelphia, and something closer to the truth.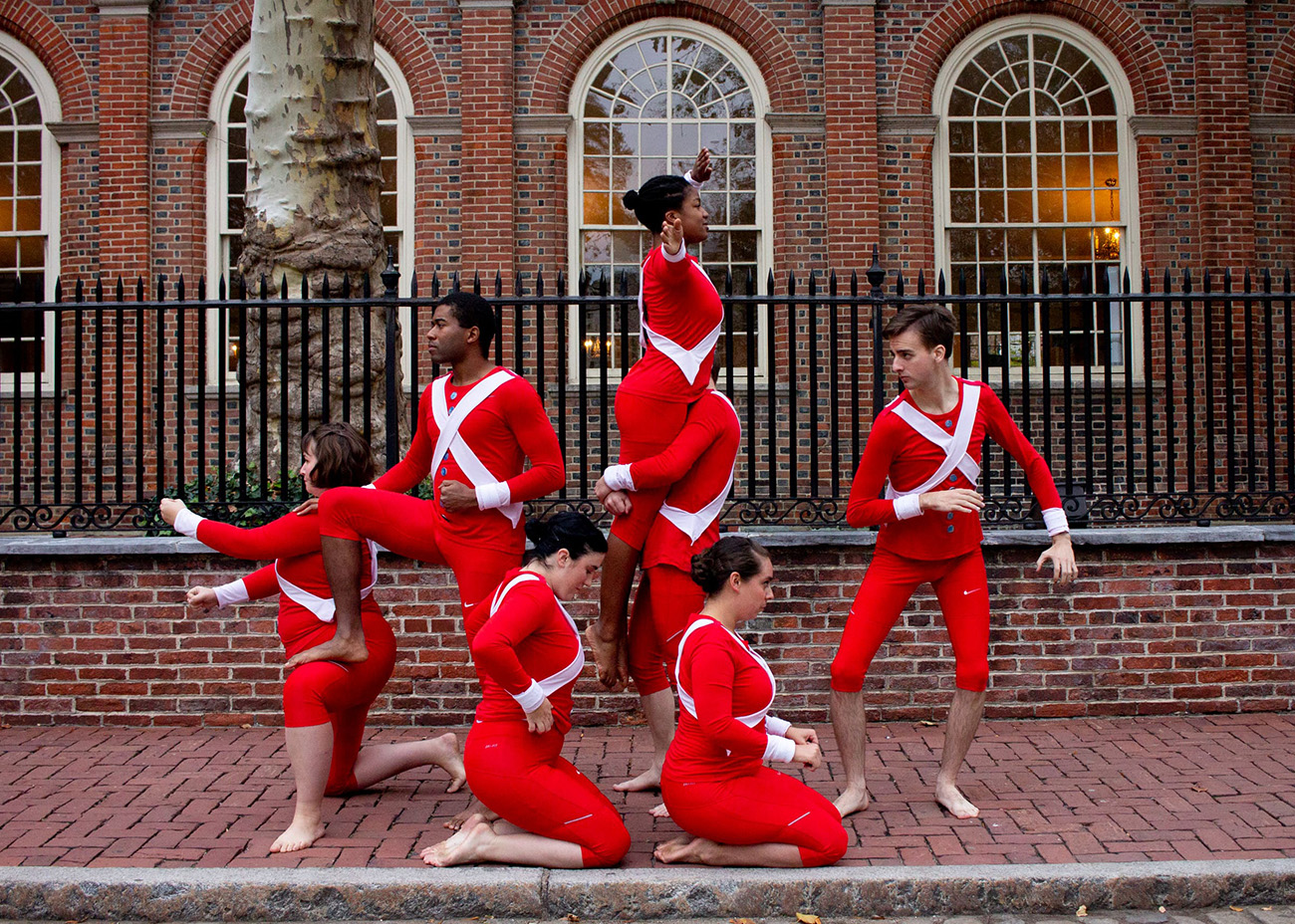 While Theater Unspeakable offer what they call "spandex, physical comedy, and tongue-in-cheek humor" in relation to our history books, in the words of multi-character actor Craig Storrod (a Birmingham, England-born thespian still grappling with the "historical choices and conversations around issues such as colonization") and Theater Unspeakable's Artistic Director Marc Frost, the Chicago company's realistic look at The American Revolution promises to pull no punches, while remaining family-friendly.
"When we started developing The American Revolution in 2014, Theater Unspeakable was coming off of its first successful touring production which was a "Superheroes" show," says Frost connecting the dots between its roots in storytelling and its need for spandex. "So, doing a physical theater piece on American history felt like a non-sequitur. Finding a heavy audience of students, as well as families, for our superheroes story – Superman in the future – it seemed right to do something that dealt with the curriculum, with things taught and learned in school."
To that end, Storrod jokes about the weightiness of having to portray Revolutionary War leader and first President Washington. "As a Brit, there is a great responsibility as well as great consternation," he jokes, about how the first 13 states built their America after wresting it from Great Britain's hands. "I am, however, walking the line between my past heritage and my current heritage."
Frost states that, from the first, there was a need to get "academic" with the source material of our Founding Fathers and its foibles, and read as much and many non-fictions and fictions as possible for greater perspective.
The American Revolution wasn't ever going to be your typical, live, after-school special.
"Then again, we were still the same clowns who performed as superheroes, pretending to fly over a small platform stage the size of a door," notes Frost. "We have to make people believe that losing a bunch of tea in a Boston harbor was a really big deal." (Storrod manages to joke that, in his country, "we take our tea very seriously, so that was a huuuuge deal").
"Point is," states Frost, "we're not ever going to be, exactly, the based-on-a-true-story sort-of theater company."
Following in line with other, comic Chicago-based companies such as Second City, there is playfulness, improvisation and lies found in Theater Unspeakable.
While theirs is not historical fact, per se, what The American Revolution and Theater Unspeakable does not eschew is the controversies revolving around those characters portrayed, nightly, on stages in Philadelphia this holiday, and beyond. Knowing that families attend patriotic events for somewhat rote information, Theater Unspeakable plays to the crowd and the story as we've read it throughout our youths. "There are certain touch-points that we need to hit hard," notes Frost.
As time goes on, however, those same schooled truths have been questioned, dispelled, deconstructed and spelled out in different forms with diffident answers, whether it is Ron Chernow's biography of Alexander Hamilton that inspired the hip hop musical of its same name, the LGBTQ-based Advocate Magazine and its "15 Gay Founding Fathers and Mothers" list, and 2020's You Never Forget Your First: A Biography of George Washington by historian Alexis Coe, that portrays the general and president as a slave-slapping, teeth-stealing, non-book-reading dummy.
"This show, is unashamedly real," says Storrod of a script that makes sure you know that his Washington owned slaves and how meanly misogynistic he was. "The American Revolution is fast-paced theater, but these messages, these new truths, are in there. We don't shy from this country being a flawed place. We are all flawed. That is all but spelled out and writ large at the end of the play.
Our forefathers weren't so forthcoming back-in-the-day. Or good. Or intelligent. Or moral. Audiences know this, and are usually ready for a reckoning.
"It is great you're asking these questions because, since we conceived of, and performed, this show, in the first place, we have come up against deeply questioning audiences, crowds who want us to acknowledge that American history may not be as it was written, and that our theater piece must continue to evolve," states Frost. "Though comedic and improvisational, one of the things that The American Revolution show has, at its heart, a poignancy and a relevancy. That is why we often get called "Hamilton Jr. I'll take the compliment."
This American Revolution is seeking to peer into the past (its grand menace, malice and its' indiscretions) through the lens of the present. There was inequality, sexism, misogyny, racism, classism, betrayal and belittling since this was country was born. We've been making America great for over 200 years.
"The mythology of our founding fathers and mothers is, and should always be reconsidered, then reconsidered again," says Frost.
"Having pored through volume after volume of text for this play, I can tell you that every era has its own, different interpretation of the Revolutionary War and the fight for Independence that reflect the contemporary concerns for America at that time. Whatever we do, this history is in-flux. We're looking to peel back the layers on the stories and those who had the history – for better or worse. We're looking to celebrate the accomplishment's while tearing down the hypocrisies. Whether it is enslavement or the fight of the commoner against regal rule, our silly little play can look at the tales wrongly told, and magnify what has been missed."